Profile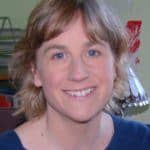 Amelia Randle
Curriculum Vitae
Education:

The Queen's School Chester

King's College School of Medicine and Dentistry

Qualifications:

8 GCSEs 6 As 2 Bs

4 A Levels 3 As one B

BSc Nutrition Dietetics and Basic Medical Sciences

MB BS

Membership of the Royal College of Physicians

Membership of the Royal College of General Practitioners

Work History:

I started working as an Oncologist (Cancer Specialist) before I trained as a GP.

Workplace:
My Work:

I work at a GP practice in Shepton Mallet
Quick Fire Questions

How would you describe yourself in 3 words?

Busy, Determined, Happy.

What's your favourite food?

Bramley Apples – Tasty, versatile and they grow in my garden.

What did you want to be after you left school?

Were you ever in trouble at school?

Had a letter written home to my parents for organising a competition to see how many people could fit into a toilet cubicle.

What's the best thing you've done in your career?

When people contact me to say thank you for helping them and telling me the ways I have made a difference.

What or who inspired you to do your job?

There are thousands of inspirational people in the NHS couldn't possibly choose just one. Patients are often the most inspiring.

If you weren't in healthcare, what job would you do?
---